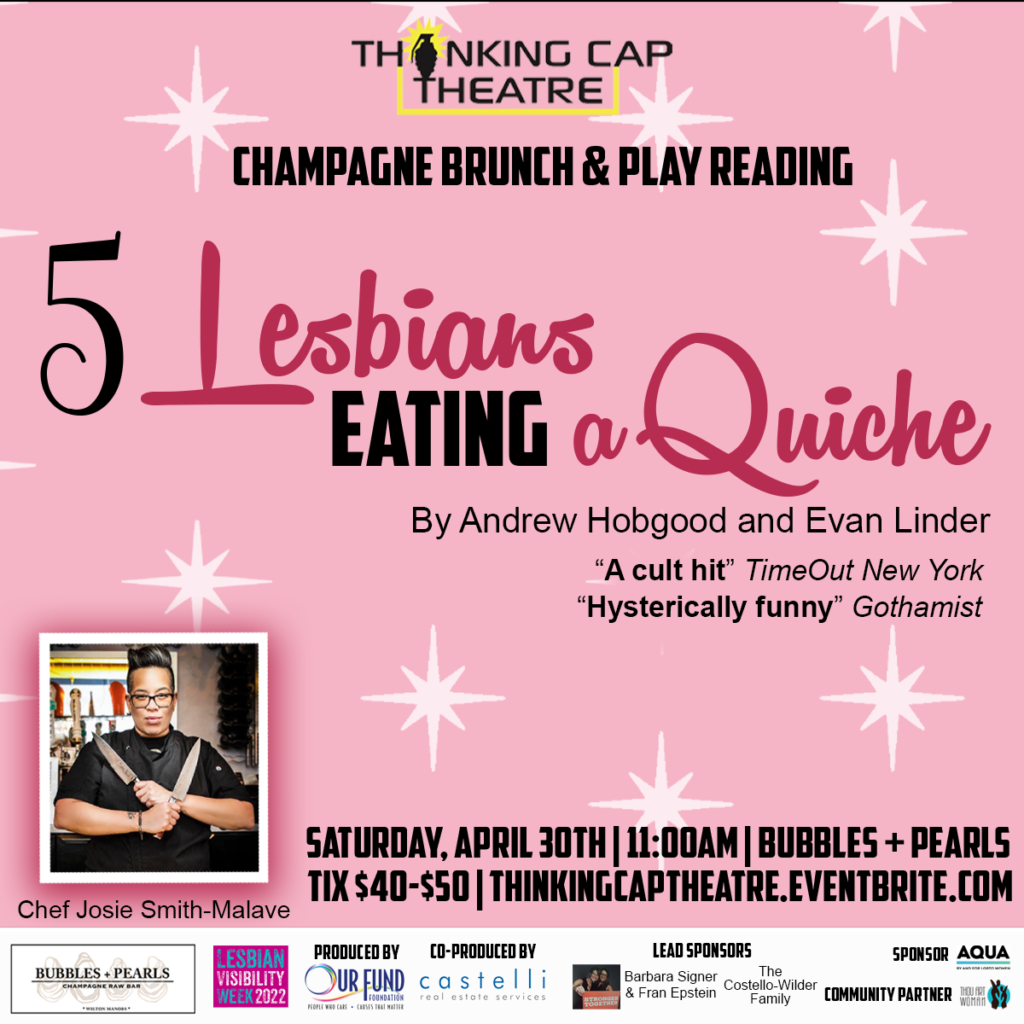 5 LESBIANS EATING A QUICHE | Champagne Brunch Play Reading
Champagne Brunch Play Reading of "5 Lesbians Eating A Quiche" at Bubbles & Pearls in Wilton Manors | Cuisine by Top Chef Josie Smith-Malave
About this event

Produced by OurFund Foundation. Co-Produced by Castelli Real Estate Services. Lead Sponsorship by Barbara Signer & Fran Epstein & The Costello-Wilder Family. Sponsored by Aqua Foundation. In Community Partnership with Thou Art Woman.

5 LESBIANS EATING A QUICHE by Play by Andrew Hobgood and Evan Linder

Directed by Sabrina Gore | Stage Management by Emma Sue Harris

Produced by Bree-Anna Obst and Nicole Stodard

ABOUT THE PLAY

The Susan B Anthony Society for the Sisters of Gertrude Stein are having their annual Quiche Breakfast. When the Communists attack, the closet doors blow open as secrets, repressed desires and an insatiable hunger for quiche are released.

"Its raw and magnetic dementia seems destined to attract a cult following." – Ben Brantley, The New York Times

"A very good time…5 Lesbians packs a punch." – Chris Jones, Chicago Tribune

★★★★ (out of five) "A cult hit…gleaming with comic polish." – Adam Feldman, Time Out New York

★★★★★ (out of five) "The bitingly funny story of friendship, pastry and forbidden love has the audience in stitches." -Vancouver Sun

★★★★ (out of five) "Expanded from an award-winning sketch, this wonderfully ridiculous scenario delivers what it promises. This ensemble piece is smart, sharp and hysterically funny." – Time Out Chicago

★★★★½ (out of five) "Raucously off-kilter…It is silly, it is rude, it is laugh-out-loud funny, and it's all over too soon." – Atlanta Theater Buzz

★★★★ (out of four) "I wouldn't be surprised if 5 Lesbians Eating a Quiche, like The 39 Steps, becomes a mainstream favorite of theater troupes around the country…" – Chicago Stage Standard

ABOUT TOP CHEF JOSIE SMITH-MALAVE

Smith-Malave is a classically trained bohemian chef, global adventurist, TV and radio personality, former women's pro-football player, social activist, and lifestyle ambassador. She spent a decade rocking the NYC food scene, working under renowned chefs Wylie Dufresne, Jean-Georges Vongrichten, Caroline Fidanza, and Walter Hinds, to name a few. Smith-Malave's Wilton Manors restaurant, Bubbles & Pearls, a celebrated gem that boasts a fine oyster and champagne selection.