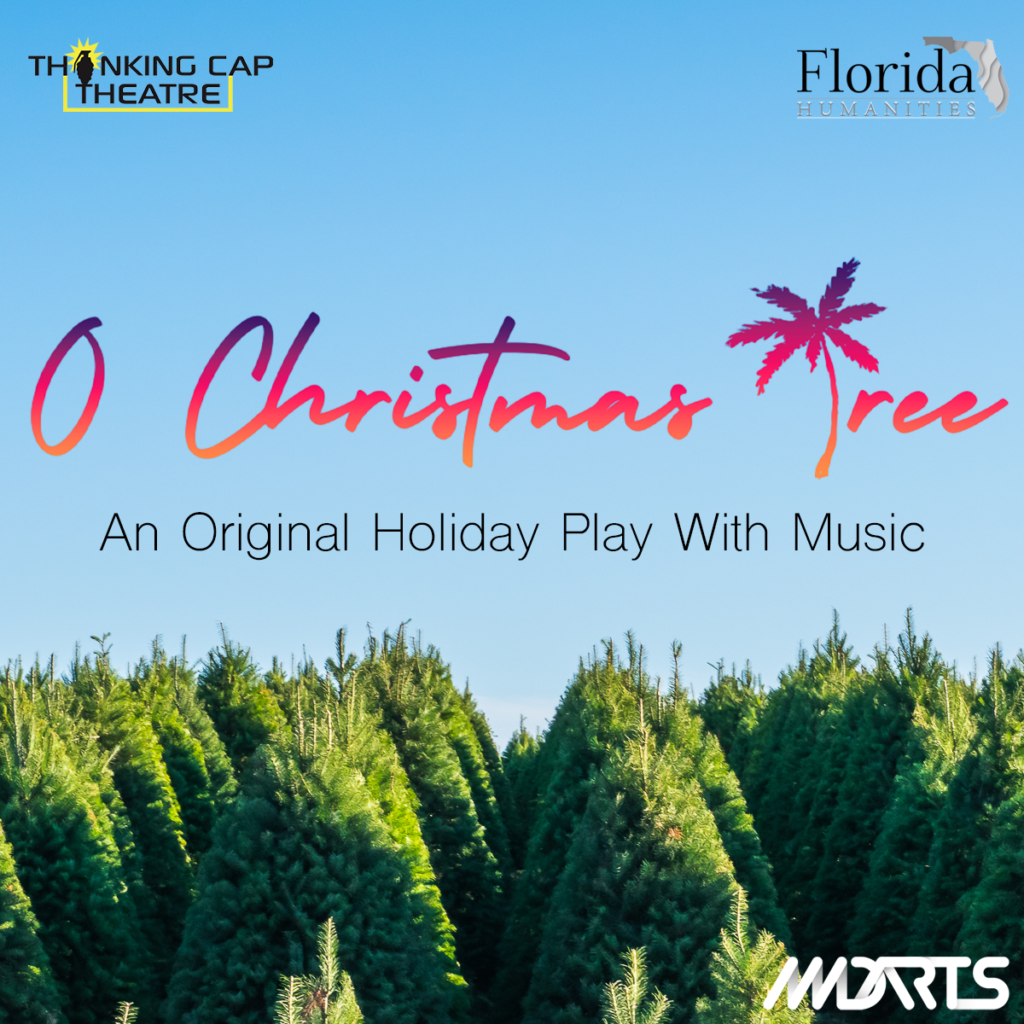 O CHRISTMAS TREE
Join Thinking Cap Theatre at MAD Arts for an original holiday play with music inspired by the Florida Christmas Tree Farm Industry about a South Florida family that takes a road trip to a pick-and-cut farm.

For those seeking fresh holiday entertainment, Thinking Cap Theatre (TCT), a Broward-based, professional nonprofit dedicated to innovative theatrical fare, may just have the freshest show in town. O CHRISTMAS TREE is an original holiday play with music co-written by TCT's Artistic and Managing Directors, Nicole Stodard and Bree-Anna Obst.

O CHRISTMAS TREE tells the story of Frankie (Phillip Andrew Santiago), an 8-year old Hialeah boy of Cuban, Catholic, and Jewish descent, who proposes starting a new family tradition when the lights dim on his family's artificial tree. He prevails and an epic road trip ensues with him, his mom, Claudia (Angelina Lopez Catledge), and his grandma (Carol Sussman). In spite of a few obstacles on their drive to Gainesville, the family arrives safely at Unicorn Hill Christmas Tree Farm where they meet Farmer Tom (Steven A. Chambers) and enjoy the truly magical Clark Griswoldesque experience of cutting down a live tree. A joyful exploration of multicultural December holiday traditions, O CHRISTMAS TREE will surely resonate with many South Floridians. The production includes live original music and a few treasured classics performed by Paul Curtis and Angelina Lopez Catledge of the band Hola, Hi (http://www.holahi.net).

O CHRISTMAS TREE was inspired by interviews and site visits with Christmas Tree Farmers around the state. The interviews will air in a Four-Part Podcast Series entitled "From Christmas Tree Farm to Stand" with episodes dropping on November 16th, 23rd, 30th, and December 7th. Audiences can tune into the podcast on Amazon Music, Apple Music, Google Podcasts, and Spotify.

O CHRISTMAS TREE performances will include a pre-show craft installation where guests can create keepsake ornaments. There will be a Special Talkback following the Sunday, December 11th 1:00PM performance with Dr. Dimitris Xygalatas, an anthropologist and cognitive scientist at University of Connecticut. He will discuss themes in the play and his latest book, Ritual: How Seemingly Senseless Acts Make Life Worth Living. There will also be a Behind-the-Scenes Talkback with the Cast and Creative team following the Sunday, December 18th 1:00PM performance.

For the world premiere of O CHRISTMAS TREE, Nicole Stodard will direct a cast that includes Phillip Andrew Santiago, Angelina Lopez Catledge, Steven A. Chambers, and Carol Sussman. TCT's resident scenic designer Alyiece Moretto-Watkins (set) and Bree-Anna Obst (lighting/projection) will join Stodard (costume) to form the design team.

Funding for this program was provided through a grant from Florida Humanities with funds from the National Endowment for the Humanities. Any views, findings, conclusions or recommendations expressed in this program do not necessarily represent those of Florida Humanities or the National Endowment for the Humanities.