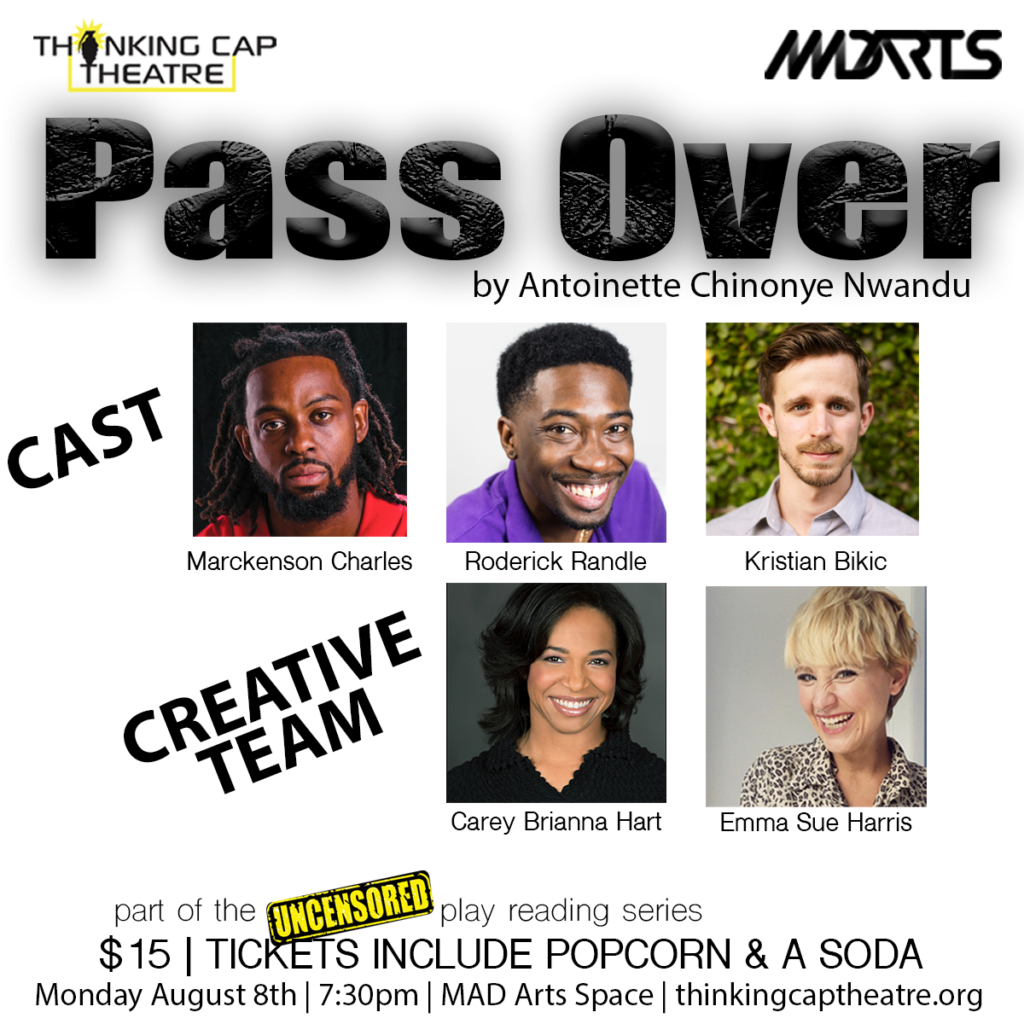 PASS OVER | Play Reading
Welcome to the next installment of Thinking Cap Theatre's Uncensored Play Reading Series.

PASS OVER by Antoinette Nwandu
A Powerful New Play about Race that Riffs on the Book of Exodus and Samuel Beckett's WAITING FOR GODOT

Admission price includes popcorn and a non-alcoholic beverage.
Doors open at 6:30pm. Staged reading of play will begin promptly at 7:30pm.
********************************************************************************************************************************
"Blazingly theatrical and thrillingly tense". ~ New York Times

"In the insanity of a city filled with guns, and people ready and willing to use them whenever temperatures rise, waiting isn't so much a malaise as a badge of survival . . . a very potent and promising play . . . The language in the work is thrilling, poetical." ~Chicago Tribune

About the Play
Characters Moses and Kitch stand on the corner passing time and daydreaming about a different life. A stranger arrives and inserts himself into their moment, upsetting their fantasy and more.
Spike Lee directed the 2018 film version of the play.

Pass Over was the first play to reopen on Broadway during the pandemic!

https://www.passoverbroadway.com

About the Playwright
Nwandu is a New York-based playwright, a MacDowell Fellow, a Dramtists Guild Fellow, and an Ars Nova Playgroup alum. Accolades include the Whiting Award for Drama, the Paula Vogel Playwriting Award, the Lorraine Hanbsberry Playwriting Award, the Negro Enemble Company's Doulas Turner Ward Prize, and a litery fellowship at the Eugene O'Neill Playwrights Conference.

About the Director
Carey Brianna Hart is a native Floridian born in Miami. She graduated from the New World School of the Arts. She continued her theatrical education studying Acting, Playwriting and Directing in Chicago, Illinois at the Goodman School of Drama at DePaul University. She earned a Bachelor of Fine Arts in Theatrical Studies. She has also taught with the Children's Theatre Programs of the AreaStage and M Ensemble Theatre Company. Carey has worked on stage and backstage in South Florida theatre in productions by the African American Performing Arts Community Theatre, AreaStage, City Theatre, GableStage, M Ensemble Theatre Company, Mad Cat, New Theatre, Thinking Cap Theatre, the Vinnette Carroll Theatre and the Women's Theatre Project. Carey is a company member of Thinking Cap Theatre. Carey seeks to continue contributing to the Artistic Landscape of the World.