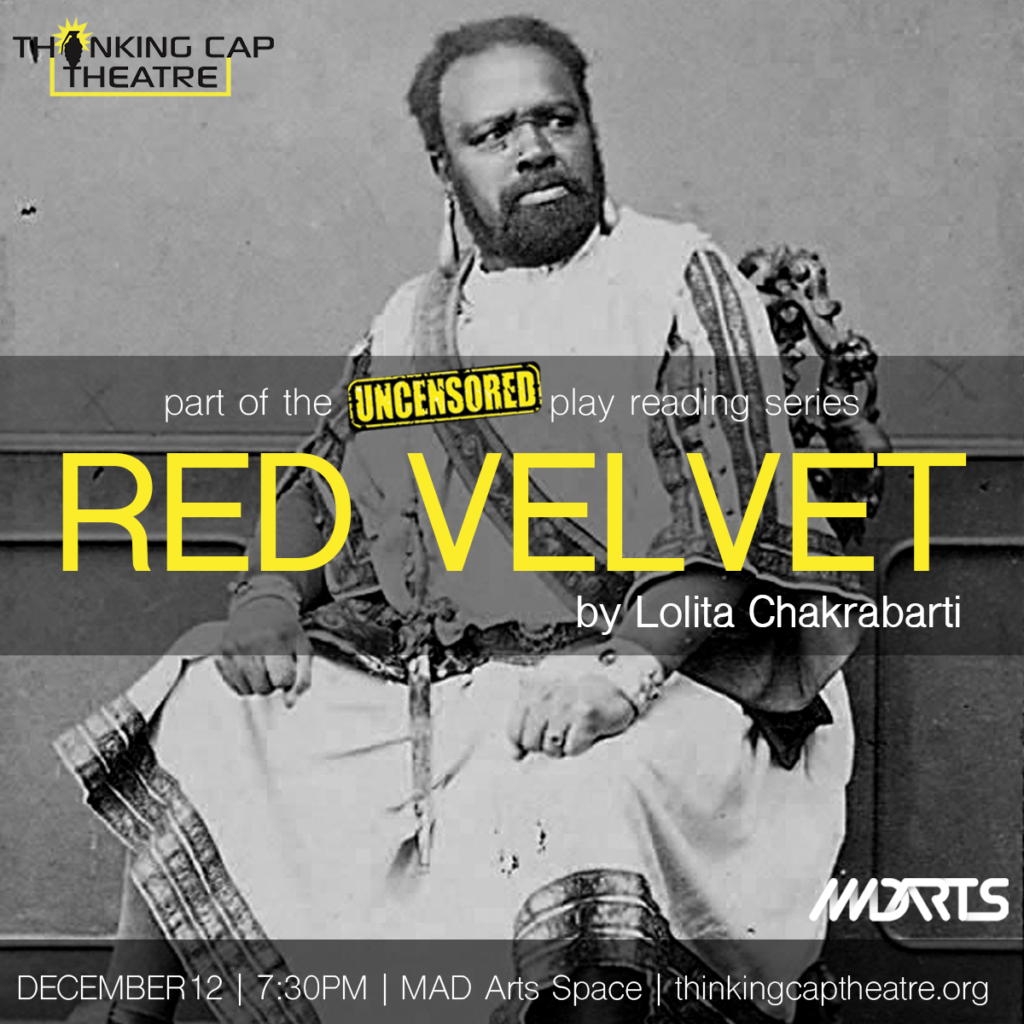 RED VELVET | play reading
Admission price includes popcorn and a non-alcoholic beverage.

Doors open at 7:00pm. Staged reading of play will begin promptly at 7:30pm.

********************************************************************************************************************************
About the Play
It's like being at a crossroads - a point of absolute, unequivocal change. It makes the blood rush.

Theatre Royal, Covent Garden, 1833. Edmund Kean, the greatest actor of his generation, has collapsed on stage whilst playing Othello. A young black American actor has been asked to take over the role. But as the public riot in the streets over the abolition of slavery, how will the cast, critics and audience react to the revolution taking place in the theatre?

Lolita Chakrabarti's play creates imagined experiences based on the little-known, but true, story of Ira Aldridge, an African-American actor who, in the nineteenth century, built an incredible reputation on the stages of London and Europe.

Red Velvet received its world premiere at the Tricycle Theatre, London, on 11 October 2012, starring Adrian Lester as Ira Aldridge. It was revived at the Tricycle Theatre on 23 January 2014, before transferring to St Ann's Warehouse, New York, on 25 March 2014.

About the Playwright
Lolita Chakrabarti is an award winning Actress and Writer. She has worked extensively as an actress on stage and screen.
As a writer Red Velvet is her debut play. (Evening Standard Charles Wintour Award for Most Promising Playwright 2012; Critics Circle Award for Most Promising Playwright 2012; AWA Award for Arts and Culture 2013; WhatsonStage nominations for London Newcomer of the Year and Best New Play 2012; Olivier Award nomination for Outstanding Achievement in an Affiliate Theatre 2012). Red Velvet premiered at the Tricycle Theatre, London in 2012 where it returned in 2014 before transferring to St Anne's Warehouse, New York. Lolita also wrote Last Seen – Joy for The Almeida Theatre and a five-part adaptation of The Goddess for BBC Radio 4.

About the Director
Carey Brianna Hart is a native Floridian born in Miami. She graduated from the New World School of the Arts. She continued her theatrical education studying Acting, Playwriting and Directing in Chicago, Illinois at the Goodman School of Drama at DePaul University. She earned a Bachelor of Fine Arts in Theatrical Studies. She has also taught with the Children's Theatre Programs of the AreaStage and M Ensemble Theatre Company. Carey has worked on stage and backstage in South Florida theatre in productions by the African American Performing Arts Community Theatre, AreaStage, City Theatre, GableStage, M Ensemble Theatre Company, Mad Cat, New Theatre, Thinking Cap Theatre, the Vinnette Carroll Theatre and the Women's Theatre Project. Carey is a company member of Thinking Cap Theatre. Carey seeks to continue contributing to the Artistic Landscape of the World.