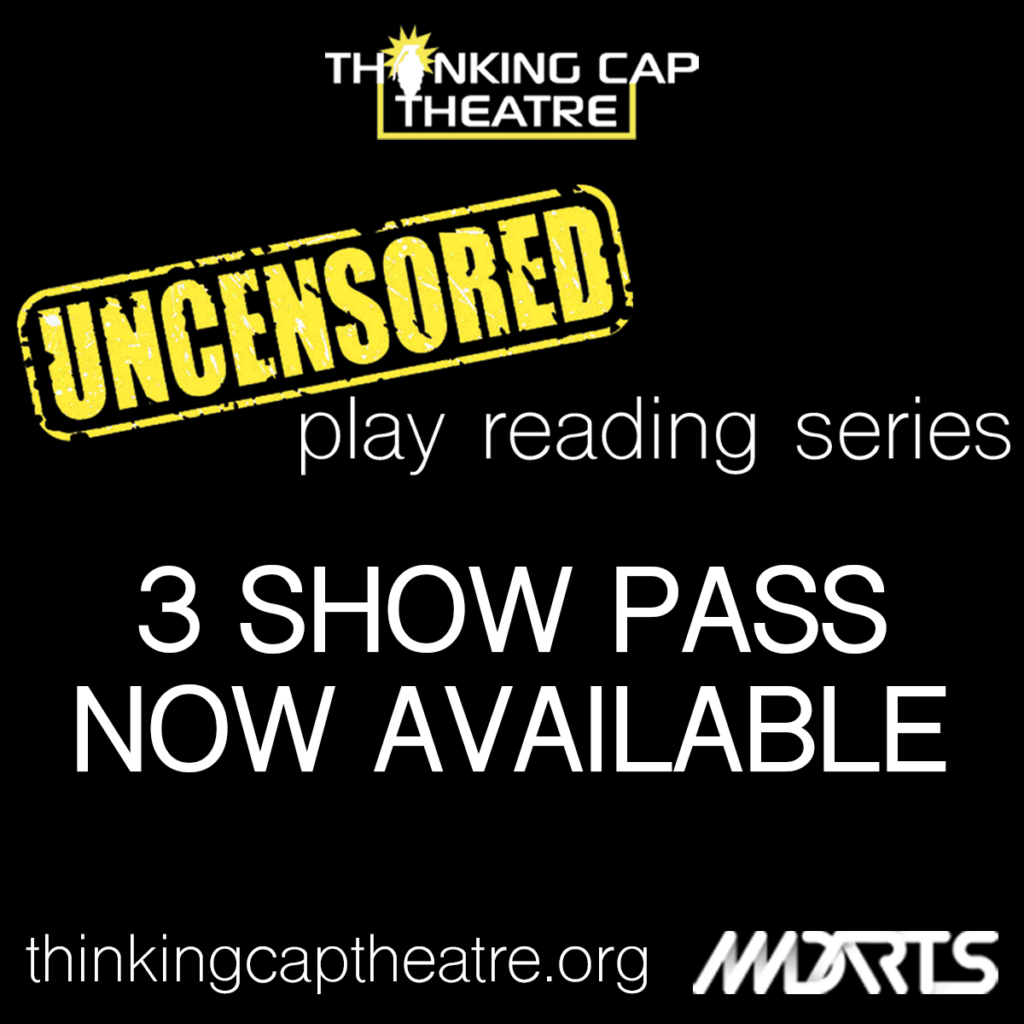 Uncensored Play Reading Series 3 Show Pass
Three Readings for the Price of Two!

With a Play Reading Pass, you can experience all 3 readings in our celebrated series for just $30, the cost of 2 at regular price! This is a 33% discount! Woot! Woot!

We have worked to make these readings EVENTS! And we have exciting news about each of the remaining play readings.

Tickets now include a Pre-Show Reception beginning at 6:30pm. Guests can enjoy a complimentary beverage of their choice as well as hors d'oeuvres.

The staged reading will begin promptly at 7:30pm.

Monday October 10 - Elvis and Ali by Tom Schreck directed by Carey Brianna Hart. Meet the Playwright! The author of this brand new work will be joining us for a special Meet-and-Greet Pre-Show Reception!

Monday November 14 - The Thanksgiving Play by Larissa FastHorse directed by Sabrina Lynn Gore. Fasthorse' hilarious satire will hit Broadway in Spring 2023. Experience it first with TCT and enjoy a Themed Pre-Show Reception!

Monday December 12 - Red Velvet by Lolita Chakrabarti directed by Carey Brianna Hart. Enjoy a Festive Pre-Show Reception in our specially decorated lobby as well as a Holiday Gift Exchange. More details to follow for registered guests.

ABOUT THE PLAYS:

Elvis and Ali by Tom Schreck

About the Play
As the story goes, in the mid 1970's, a frustrated Elvis Presley called Muhammad Ali for advice. Ali invited Elvis to his rural Pennsylvania training camp where they discussed life, race, family, politics, war, religion, women, and the prison of fame.

Elvis & Ali is a musical stage play about the biggest, most popular, cultural icons of the last century and what a summit between the two of them would've been like.

About the Playwright
Tom Schreck is a novelist, playwright, and feature writer.

About the Director
Carey Brianna Hart is a native Floridian born in Miami. She graduated from the New World School of the Arts. She continued her theatrical education studying Acting, Playwriting and Directing in Chicago, Illinois at the Goodman School of Drama at DePaul University. She earned a Bachelor of Fine Arts in Theatrical Studies. She has also taught with the Children's Theatre Programs of the AreaStage and M Ensemble Theatre Company. Carey has worked on stage and backstage in South Florida theatre in productions by the African American Performing Arts Community Theatre, AreaStage, City Theatre, GableStage, M Ensemble Theatre Company, Mad Cat, New Theatre, Thinking Cap Theatre, the Vinnette Carroll Theatre and the Women's Theatre Project. Carey is a company member of Thinking Cap Theatre. Carey seeks to continue contributing to the Artistic Landscape of the World.


The Thanksgiving Play by Larissa FastHorse
"The familiar, whitewashed story of Pilgrims and Native Americans chowing down together gets a delicious roasting from expert farceurs." – The New York Times
"A satirical and visual punch." – New York Stage Review
"Very, very funny. Larissa FastHorse's The Thanksgiving Play skewers liberal pretensions with glee – this clever satire is something for which to be truly thankful." – Hollywood Reporter

About the Play
Good intentions collide with absurd assumptions in Larissa FastHorse's wickedly funny satire, as a troupe of terminally "woke" teaching artists scrambles to create a pageant that somehow manages to celebrate both Turkey Day and Native American Heritage Month. The Thanksgiving Play premiered off-Broadway at Playwrights Horizons in New York City on October 12, 2018.

About the Playwright
Larissa FastHorse (Sicangu Lakota) is an award-winning playwright. Larissa's produced plays include The Thanksgiving Play (Playwrights Horizons, Artists Rep), What Would Crazy Horse Do? (KCRep, Relative Theatrics), Urban Rez (Cornerstone Theater Company, ASU Gammage, NEFA National tour 2019-20), Landless and Cow Pie Bingo (AlterTheater), Average Family (Children's Theater Company of Minneapolis), Teaching Disco Squaredancing to Our Elders: a Class Presentation (Native Voices at the Autry), Vanishing Point (Eagle Project) and Cherokee Family Reunion (Mountainside Theater).
Additional theaters that have commissioned or developed plays with Larissa include Yale Rep, History Theater, Kennedy Center TYA, Baltimore's Center Stage, Arizona Theater Company, Mixed Blood, Perseverance Theater Company, The Lark Playwrights Week, the Center Theatre Group Writer's Workshop and Berkeley Rep's Ground Floor.
Larissa's awards include the PEN/Laura Pels Theater Award for an American Playwright, NEA Distinguished New Play Development Grant, Joe Dowling Annamaghkerrig Fellowship, AATE Distinguished Play Award, Inge Residency, Sundance/Ford Foundation Fellowship, Aurand Harris Fellowship, the UCLA Native American Program Woman of the Year and numerous Creative Capital, Ford, Mellon and NEA Grants.
Larissa is the vice chair of the board of directors of Theater Communications group and represented by Jonathan Mills at Paradigm NY. More info at hoganhorsestudio.com.


Red Velvet by Lolita Chakrabarti

About the Play
It's like being at a crossroads - a point of absolute, unequivocal change. It makes the blood rush.
Theatre Royal, Covent Garden, 1833. Edmund Kean, the greatest actor of his generation, has collapsed on stage whilst playing Othello. A young black American actor has been asked to take over the role. But as the public riot in the streets over the abolition of slavery, how will the cast, critics and audience react to the revolution taking place in the theatre?
Lolita Chakrabarti's play creates imagined experiences based on the little-known, but true, story of Ira Aldridge, an African-American actor who, in the nineteenth century, built an incredible reputation on the stages of London and Europe.

Red Velvet received its world premiere at the Tricycle Theatre, London, on 11 October 2012, starring Adrian Lester as Ira Aldridge. It was revived at the Tricycle Theatre on 23 January 2014, before transferring to St Ann's Warehouse, New York, on 25 March 2014.

About the Playwright
Lolita Chakrabarti is an award winning Actress and Writer. She has worked extensively as an actress on stage and screen.
As a writer Red Velvet is her debut play. (Evening Standard Charles Wintour Award for Most Promising Playwright 2012; Critics Circle Award for Most Promising Playwright 2012; AWA Award for Arts and Culture 2013; WhatsonStage nominations for London Newcomer of the Year and Best New Play 2012; Olivier Award nomination for Outstanding Achievement in an Affiliate Theatre 2012). Red Velvet premiered at the Tricycle Theatre, London in 2012 where it returned in 2014 before transferring to St Anne's Warehouse, New York. Lolita also wrote Last Seen – Joy for The Almeida Theatre and a five-part adaptation of The Goddess for BBC Radio 4.